Sushi Menu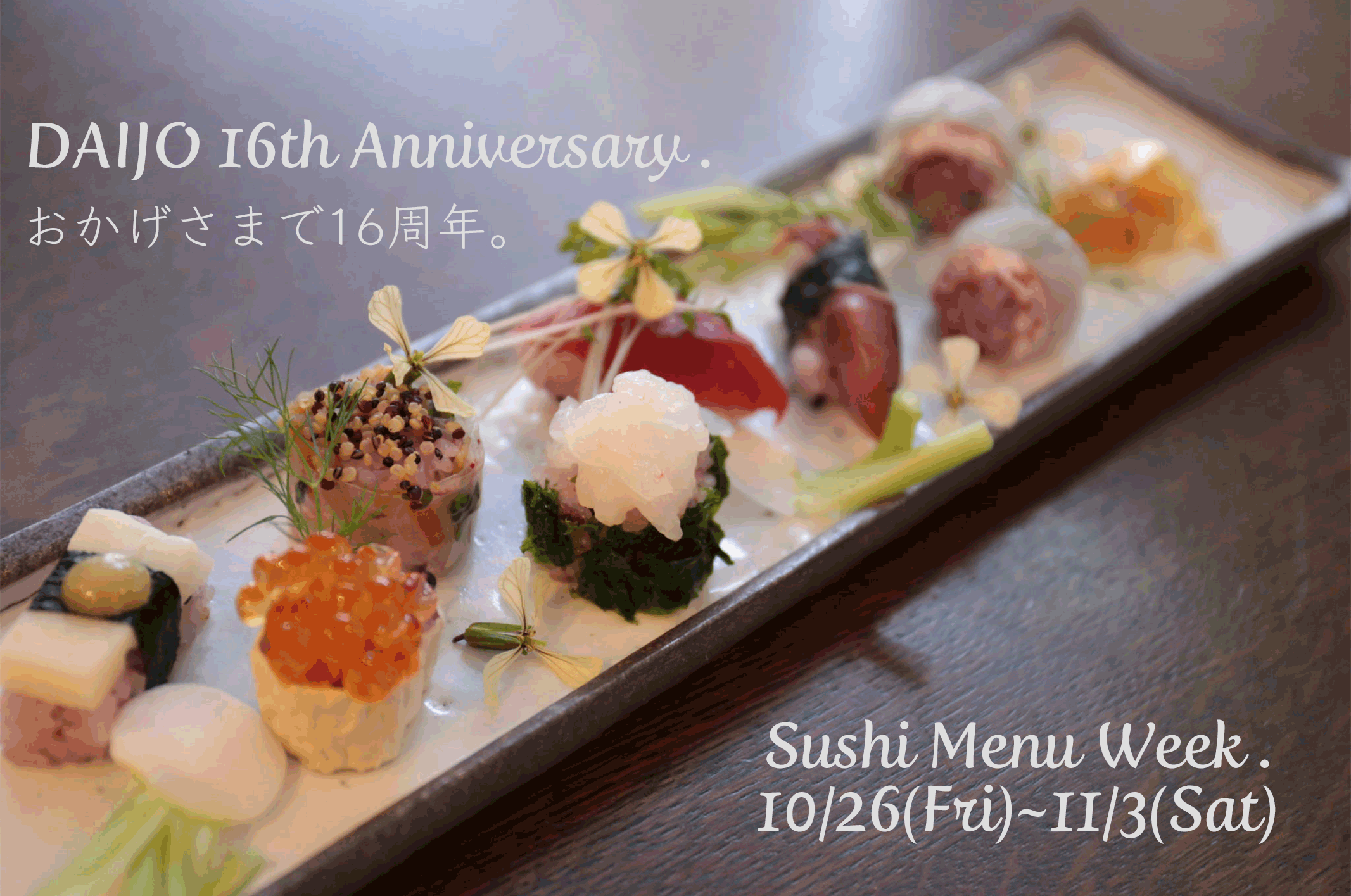 お寿司と言えば魚介ですが、もう少し自由な発想で野菜を使ったものや、寿司飯に玄米、黒米などを混ぜ込んで食感や色彩を豊かに表現出来ないかと思案中です。 お寿司、パスタ、自家製パン...と、炭水化物が続き少し量が多いとのご意見も頂いておりますのでメインのお魚かお肉を選んで頂ける様にメニュー構成を若干変更させて頂きます。

The basics of sushi is seafood, but I am thinking whether I can express rich texture and color by mixing vegetables with a slightly free idea and brown rice, black rice etc in sushi rice.
Sushi Menu Week
4/26(木)〜4/28(土)、
5/23(水)〜5/26(土)、
メニューに創作寿司が加わります。
全日とも¥6,500税抜のコースのみとなります。
Sushi Menu Week ¥6,500-税抜

Sushiオードブル
ー
春の野草とアスパラガスの天ぷら
よもぎ塩
ー
朝採りえんどう豆のニョッキ
ー
その日の海鮮料理
又は
米澤牛のステーキ
ー
フルーツのミルフィーユ
ー
コーヒー
又は
オリジナルフレーバーティー
ー
自家製パン

※ 入荷状況により変更の場合があります。
Sushi Menu Week
Creative sushi Menu from April 26(Thu) to 28(Sat),
from May 23(Wed) to 26(Sat).
During the period it will be only ¥ 6,500 excluding taxes.
Sushi Menu Week ¥6,500- excluding taxes.

Creative Sushi Hors d'oeuvre
ー
"Tempura" White asparagus and
Wild grasses and flowers
ー
Morning picking pea
homemade gnocchi
ー
Seafood dishes of the day
or
Japanese beef steak
ー
Fruits Millefeuille and
Homemade Matcha ice cream
ー
Espresso
or
Original blended flavored tea
ー
Homemade bread natural yeast

※ It may be changed depending on the arrival ingredients.